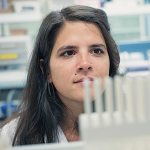 Cecilia is from Uruguay in South America, where she obtained her BSc and MSc degrees in Neuroscience from Universidad de la Republica, working with Prof. Ana Silva and Prof. Laura Quintana on neuroethology.
Her PhD research is focused on understanding local sex steroid synthesis in the brain and the regulation of social behaviour in a songbird model. She is also developing novel methods for ultra-sensitive quantification of multiple estrogens (including 17beta-estradiol, 17alpha-estradiol, estrone, estriol, methoxyestrogens, and catecholestrogens) using LC-MS/MS. Cecilia held an Uruguay Graduate Scholarship and a Zoology Graduate Fellowship.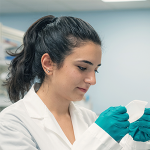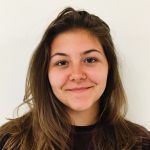 Sofia completed her BA in Psychology in 2020 at UBC. As an undergraduate, she received the NSERC Undergraduate Student Research Award.
Sofia is now a Master's student in UBC Psychology. Her research focuses on social behaviour and sex steroids produced locally in the brain. She is currently studying neurosteroids, particularly with regard to regulation of territorial aggression in song sparrows. She received a Graduate Entrance Scholarship from the Psychology Department to support her research.
Valerie completed her BA in Psychology at UBC in 2020. During her undergraduate degree, Valerie worked in the lab of Prof. Stan Floresco and studied the role of the medial prefrontal cortex in behavioural flexibility.
As an MA student, she is currently focused on investigating the relationship between locally-produced testosterone in the mesocorticolimbic system and behavioural flexibility, specifically looking at the effects of testosterone and its sites of action.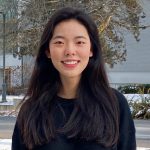 Minseon (Michelle) completed her BSc in Biology at UBC in 2021. During her undergraduate studies, Michelle worked with Profs. Shernaz Bamji and Tim O'Connor to screen the functions of gene variants associated with Autism Spectrum Disorder.
As a MSc student, Michelle is currently investigating the effects of maternal sucrose intake on offspring physiology and behaviour. She is particularly interested in how maternal sucrose consumption alters glucocorticoid physiology.
Megan completed her BSc in Neuroscience at McGill University in 2020. During her undergraduate degree, Megan worked with Prof. Nahum Sonenberg to investigate the relationship between global protein translation and depressive-like behaviors in mice. She also worked with Prof. Rosemary Bagot to study how chronic stress changes the inputs received by the nucleus accumbens and alters information processing. Her work with Prof. Bagot was supported by a Science Undergraduate Research Award.
As a MSc student in Neuroscience, Megan is currently using a wheel running task to study the motivation to exercise in rats, and is particularly interested in how this behaviour is regulated by local sex steroids in the brain and other hormones. She is also developing an ultrasensitive method for measuring multiple estrogens using LC-MS/MS that is optimized for use in rats and mice.