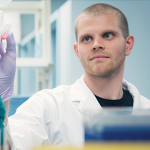 Jordan is from Virginia and received his B.Sc. in Biology with a minor in Chemistry from Radford University (2015). At Radford University, Jordan received the Ruth Bricker Painter award for his research in microbiology and immunology.
Jordan is currently working to obtain his PhD in Zoology under the supervision of Dr. Kiran Soma. Jordan's work focuses on the local regulation of glucocorticoids in immune tissues during mouse development. His projects investigate the roles of the intestinal microbiome, stress, and local regeneration of inactive glucocorticoid metabolites. In addition, Jordan collaborates with researchers at UBC and other institutions, on topics related to stress physiology.
Jordan is currently supported by the UBC 4-Year Doctoral Fellowship (2017-2021).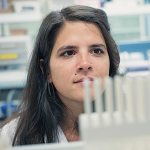 Cecilia is from Uruguay in South America, where she obtained her BSc and MSc degrees in Neuroscience from Universidad de la Republica, working with Prof. Ana Silva and Prof. Laura Quintana on neuroethology. Her PhD research is focused on understanding local sex steroid synthesis in the brain and the regulation of social behaviour in a songbird model. She is also developing novel methods for ultra-sensitive and simultaneous quantification of multiple estrogens (including 17beta-estradiol, 17alpha-estradiol, estrone, estriol, methoxyestrogens, and catecholestrogens) using LC-MS/MS.
Cecilia currently holds an Uruguay Graduate Scholarship and received a Zoology Graduate Fellowship.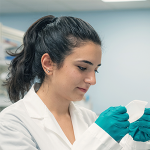 Melody completed her B.Sc. in Combined Major in Science, combining Life Sciences, Chemistry and Statistics at UBC in 2017, working in the lab of Prof. Soma. As an undergraduate, Melody received the Quinn Research Assistantship and the NSERC Undergraduate Student Research Award. She also received undergraduate travel awards to present her data at the Society for Behavioral Neuroendocrinology conference.
As a M.Sc. student in the Zoology Department, Melody's project is focused on local glucocorticoid production in immune tissues, particularly the regulation of corticosterone production in the thymus. Melody earned a NSERC CGS-M and Endocrine Society Summer Research Fellowship to conduct this novel research.
Melody has recently transferred to the PhD program and has received a NSERC CGS-D to continue her studies on the regulation of glucocorticoids in immune tissues across development.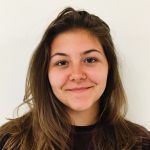 Sofia recently completed her B.A. in Psychology at UBC. As an undergraduate, she received the NSERC Undergraduate Student Research Award. Sofia is now a Master's student in UBC Psychology. Her research focuses on social behaviour and sex steroids produced locally in the brain. She is currently studying the possible role of steroids conjugated to fatty acids, particularly with regard to regulation of territorial aggression in song sparrows. She received a Graduate Entrance Scholarship from the Psychology Department to support her research.
Valerie completed her B.A. in Psychology at UBC in 2020. During her undergraduate degree, Valerie worked in the lab of Prof. Stan Floresco and studied the role of the medial prefrontal cortex in behavioural flexibility. As a M.A. student, she is currently focused on investigating the relationship between locally-produced testosterone in the mesocorticolimbic system and behavioural flexibility, specifically looking at the effects of testosterone and its sites of action.